Newsletter
Summer 2014
Summer's almost over here in WA!
There's only about a week left of summer and I almost didn't get my Summer Newsletter out before it was over! Summer's are a very busy time around here so I sometimes get behind on my art related stuff. We have 1.3 acres of land, which is a lot ot take care of any time of year. But in the summer it gets even busier around here with flower and vegetable gardens to tend to. Sometimes my husband and I spend several hours a day out in the yard planting, watering, weeding, and pruning. It's a lot of work but it's good exercise. And it feels good to be out in the fresh air and sunshine and nature. Sometimes we even get visitors to our yard, like this jaunty little blacktail fawn showing off his new antler stubs. He's so adorable he might just end up in a future painting!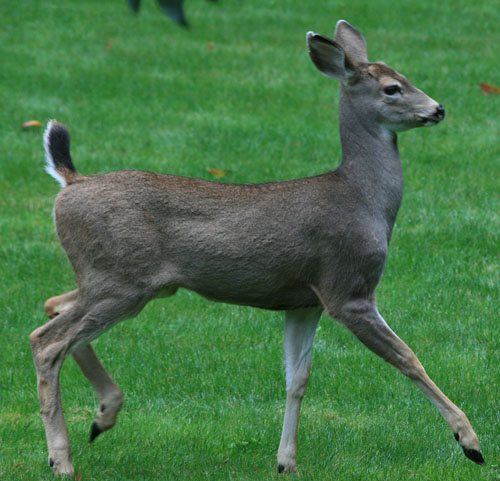 Horses, horses, horses!
But now on to art news.
Horse paintings are still popular. I've painted several more horse paintings since spring. I list all my original paintings on Daily Paintworks because that site make it easy for you to see what's new and what's available. Click the "Show Available Only" button in the upper center of the page there to see which originals are still available.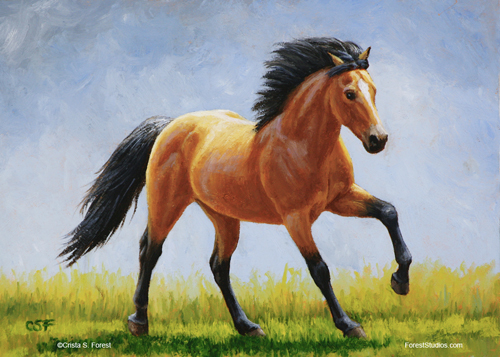 I've also added some digitally alterted variations of some of my horse images to Fine Art America in case you'd like something different and more unique, such as this western horse painting made to look like an old photograph.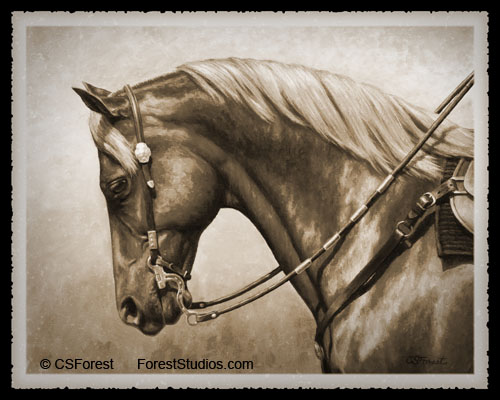 New wildlife original
Most of my horse paintings are smaller works, 8"x10" or less. One of the larger paintings (18"x24") that I've completed since spring is a new wolf painting titled, Passing It On, an image of a proud mother wolf showing her pups the beautiful territory they will inherit. Click the image to see a larger view.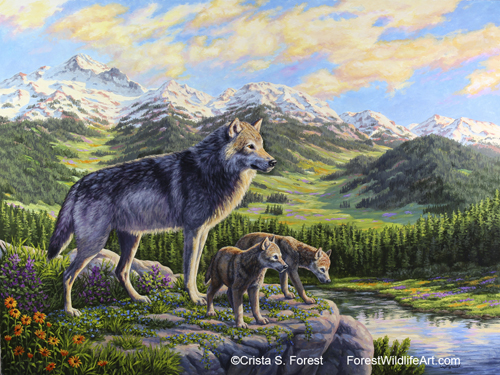 New Licensed Products
I've gotten several more licensing contracts since my Spring Newsletter. My painting of broad-tailed hummingbirds and flowers, Hummingbird Heaven, was licensed by Carson Home Accents for use on garden flags. These should hit the stores in January to be available in time for spring next year.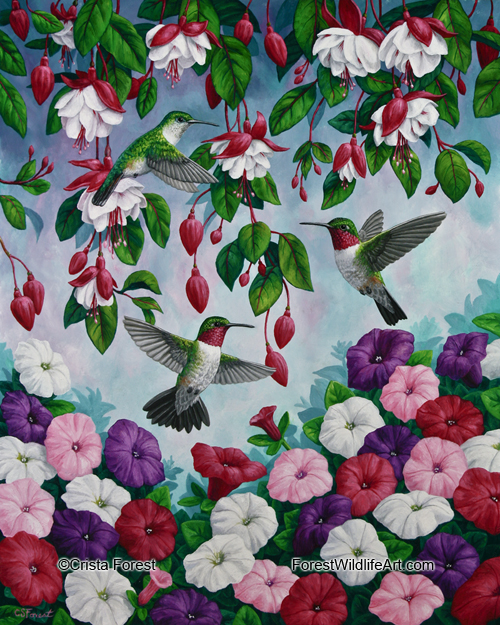 My painting of Christmas Cardinals has been licensed by SunsOut, Inc. for use on jigsaw puzzles. Normally it can take a year or more from the license date to the time the products hit the stores. But I'm told they are going to try to rush this one in order to get it out by Christmas this year, so look for it in December.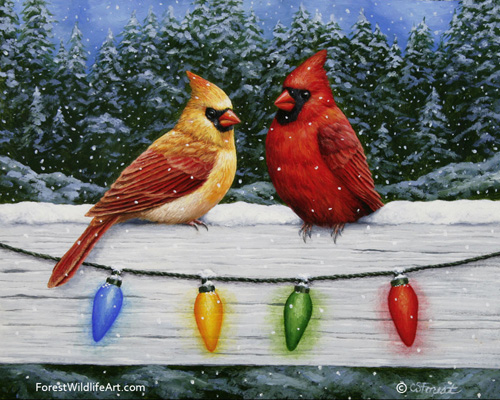 And there's more...
My bald eagle painting, Morning Quest, was licensed by David Textiles, Inc. for use on fabric and no-sew throw kits.
My wolf pup painting, Baby Blossoms, was licensed by Defenders of Wildlife for use on notepads and labels.
Bits & Pieces has licensed my whitetail doe and fawn painting, First Spring, for use on jigsaw puzzles. This is scheduled to be released January 1, 2015.
My whitetail doe painting, Surprise, has been licenced by Baum Textile Mills, Inc. for use on fabrics.
Carson Home Accents has also licensed my Cardinals and Holly painting for use on garden flags. This product won't be available this Christmas, though. Unfortunately you'll have to wait an entire year for Christmas 2015!
A long wait, yes. That's how long the licensing process can take sometimes. On the bright side, some of the images I licensed last year that weren't available when I sent my Spring Newsletter, are now in the stores and available online, such as my Apple Harvest Chickadees painting on garden flags. And there will be more to come!
Fine Art America now shipping from within the UK
Fine Art America, the service I use for creating fine art prints and greeting cards of my paintings, has always shipped worldwide. But since it shipped from within the US, the shipping costs to the UK and Europe were prohibitive, especially for heavier items like canvas and metal prints. But now FAA has set up a printing facility with in United Kingdom. This makes shipping costs much more affordable for those of you in the UK and Europe!
Currently the new UK facility is only shipping fine art prints on metal and canvas, and greeting cards, but I believe they have plans to begin shipping paper and framed prints from there soon. But if you've wanted to purchase metal or canvas prints before but didn't want to pay the high shipping costs, take another look. The shipping costs should be much lower now.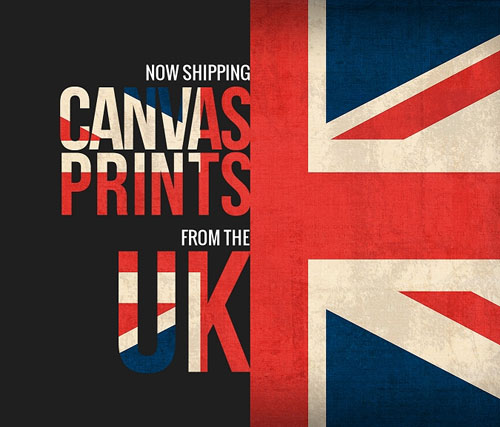 Discount Code
Exclusively for my Newsletter readers I'm offering a code for a discount off your entire order of prints, notecards, and phone cases purchased through Fine Art America or one of its affiliate sites.
And iPhone 6 cases are here!
I have categories set up so you can shop by subject, or you can browse through images specifically designed to fit on greeting cards, or iPhone and Galaxy cases. Be sure to use this code at checkout to get your discount!
HGAJXJ
This discount code expires 10/15/2014.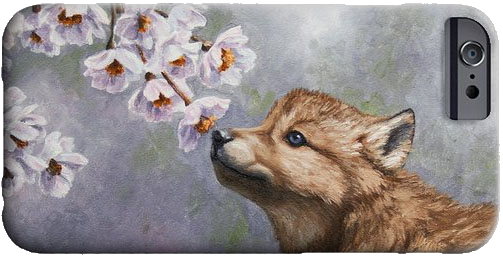 By the way, ArtistWebsites.com and Pixels.com are both part of Fine Art America, a print-on-demand service that I have been using for several years to produce high-quality fine art prints of my work. So you can find my art on any of these sites and you can trust all of them to provide you with high-quality prints and excellent service. (All three sites sell prints and greeting cards but you can only purchase phone cases on ArtistWebsites.com and Pixels.com.)
Past Newsletters and Subscriptions
Thank you for subscribing to my Summer Newsletter! I hope to see you again for my Fall Newsletter. In case you missed it, you can view the Spring Newsletter here.
Please feel free to share this Newsletter with your friends and family using the Share buttons below.
You can Unsubscribe any time. Just let me know and I'll remove you from my list. Or you can unsubscribe using the form here.