Newsletter
Winter 2015
Winter in Washington
Well, winter is here full force for much of the northern hemisphere. For Washington State that, of course, means lots of rain. But "lots" is a relative term. Most people probably think WA is one of the rainiest states in the US but in reality we don't even make the Top 10 list.Hawaii tops that list, followed by Louisiana, Mississippi, Alabama, Florida, Tennessee, Georgia, North Carolina, and South Carolina. As you can see, most of the rainfall is concentrated in the southeastern part of the US, not up here in the Pacific Northwest. So why does Seattle have such a reputation for being so rainy? Well, those states listed above get more rain based on inches of rain per year. But they get heavier rain in shorter periods of time. Seattle doesn't often get heavy rainfall. Most days it's just drizzle, so the annual rainfall in inches isn't really that high. But Seattle does make the Top 10 list of cities with the most rainy days per year, with about 150 days of year per year on average. But still, surprisingly, Seattle is not at the top of that list. Rochester, Buffalo, Portland, Cleveland, and Pittsburgh actually beat Seattle in most days of rain per year. So, we're not quite as wet up here as most people think.
Now, that doesn't mean we don't have our moments. No two winters are ever the same. This winter so far we've had several episodes of surprisingly heavy rain, overflowing rivers, flooding streets and, unfortunately, our backyard. We have a creek running through our yard that is there for drainage. Most of the year it's dry and, even when it's raining, it often doesn't accumulate enough water to actually flow. But a recent storm of heavy rainfall completely overwhelmed it this year. Not only was it flowing rapidly but it overflowed its banks at one point and made a mess of the yard with washed out silt and debris. Nevertheless, it was pretty while it was flowing so I thought I'd share a little picture of it here.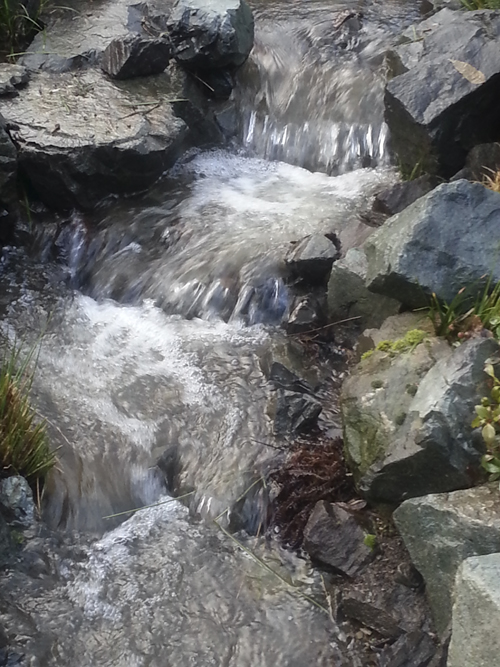 Holiday Gift Ideas
St. Patrick's Day and Easter are just around the corner. Check out some of the animal themed products that make nice holiday gifts. I have products with images for animal lovers of all kinds. Here are just a few examples of the many products available.
Saint Patrick's Day
Easter
New Original Oil Paintings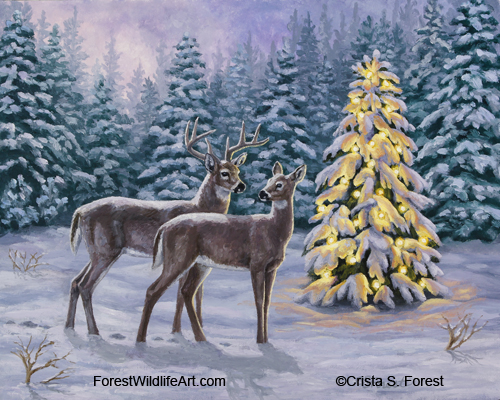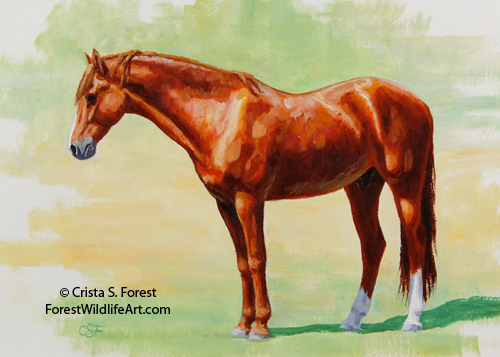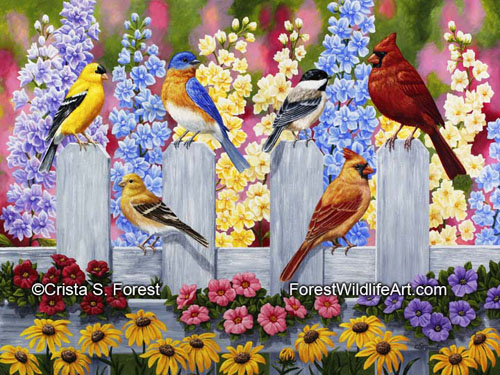 New Licensing Contracts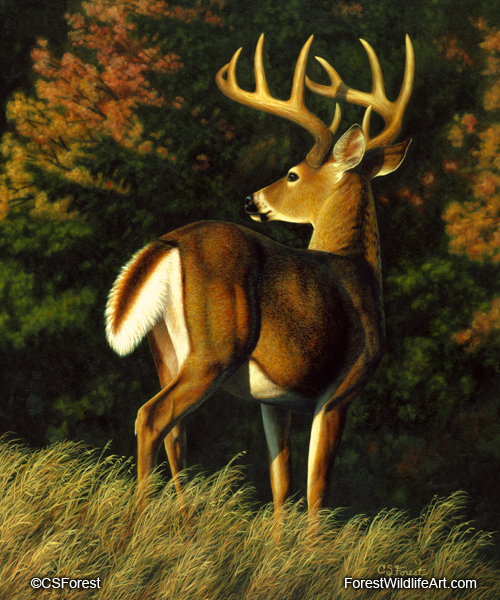 My deer paintings, Indecision, Mule Deer Ridge, and Startled have been licensed by David Textiles for use on fabric and no-sew throw kits.
My wolf paintings, Just For Fun and Night Watch have been licensed by Express Gifts Limited for use in their 2016 calendar. This will only be available to those of you in the UK.
My white tiger painting, Crystal Eyes, has been licensed by The World of 3D for use on 3D Prints, 3D greeting cards, 3D postcards, 3D notebooks, 3D magnets, 3D bookmarks.
My songbirds painting, Spring Garden Party, has been licensed by Crown Point Graphics for use on Greeting Cards/Boxed Cards, Memo cubes, Bookmarks, and List Pads.
My Christmas Cardinals painting has been licensed by Birchwood Trading for use on raschel throws and cuddle wraps.
My Autumn Chickadee painting has been licensed by The Cranford Group for use on garden flags.
My Pumpkin Harvest Puppy painting has been licensed by Discount Decorative Flags for use on garden flags.
Discount Code
Exclusively for my Newsletter readers I'm offering a code for a discount off your entire order of prints, notecards, and phone cases purchased through Pixels.com or one of its affiliate sites.
Be sure to use this code at checkout to get your discount!
YTXEVM
This discount code expires 3/31/2015.
By the way, ArtistWebsites.com and Pixels.com are both part of Fine Art America, a print-on-demand service that I have been using for several years to produce high-quality fine art prints of my work. So you can find my art on any of these sites and you can trust all of them to provide you with high-quality prints and excellent service. (All three sites sell prints and greeting cards but you can only purchase phone cases on ArtistWebsites.com and Pixels.com.)
Past Newsletters and Subscriptions
Thank you for reading to my Winter Newsletter! I hope to see you again for my Spring Newsletter. In case you missed one, you can view past Newsletters here.
Please feel free to share this Newsletter with your friends and family using the Share buttons below.
You can Unsubscribe any time. Just let me know and I'll remove you from my list. Or you can unsubscribe using the form here.