Just because I created a couple new oil paintings doesn't mean there are no new digital paintings. Here are a couple I completed since my last newsletter.
New Digital Bird Painting
A colorful collection of birds in an autumn maple tree. Bird species include bluebirds, cardinals, goldfinches, a blue jay, a nuthatch, and a black-capped chickadee.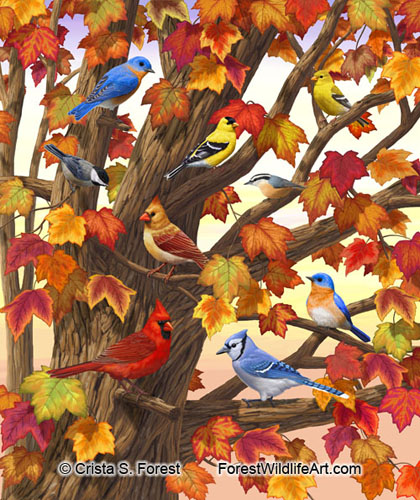 "Maple Tree Marvel"
Digital Painting
Fine Art Prints Available
New Digital Deer Painting
Taking a break from birds here, this is my first digital deer painting! It features a whitetail buck and doe resting under a stand autumn maple trees. The trees sit on a hilltop overlooking landscape that could be New England farmland.
I love that, with digital painting, I can paint super-huge images and get in there to do the tiniest detail, and these deer got a lot of detail. Click the image below to see a higher-res image. On that page, click a section of the image to see an even higher-rese detail of the image. If you click on the buck's face you can see his fur, eyelashes, and bumpy antler texture.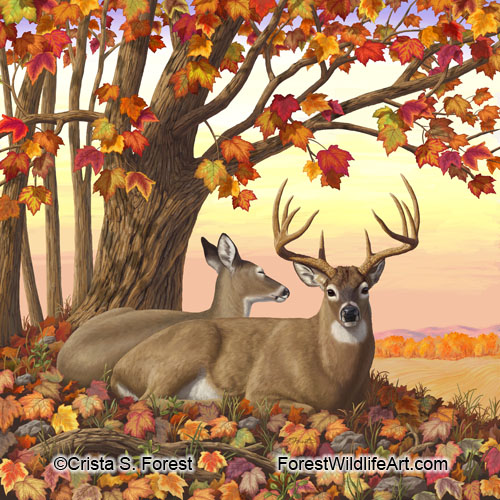 "Hilltop Retreat"
Digital Painting
Fine Art Prints Available
The original version of this deer painting is square. I made it square for licensing since square allows it to be easily cropped vertically for things like garden flags, horizontally for products such as door mats, or left as a square for things like throw pillows. But square doesn't always work for wall decor like framed or canvas prints. I think most people prefer a horizontal format for a better fit over the sofa or fireplace. So I made a horizontal version as well in case you'd prefer it that way: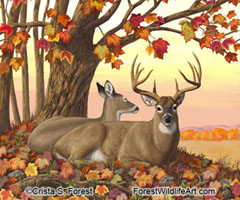 "Hilltop Retreat" - Horizontal version
Get it here